To help reduce household food waste, Samsung has teamed up with The Tetris Company to launch Samsung Stackers, a range of food storage products inspired by the famous Puzzle Tetris® Puzzle Game.
The game of storage solutions, the first of the genre, will include seven emblematic shapes and colors of Tetrimino (Cyan, Yellow, Violet, Green, Blue, Red and Orange), which will make easier than ever storage and safe storagefood in your refrigerator or freezer, in a fun and completely unprecedented way.All profits will be donated to the European Food Banks Federation.
Le gaspillage alimentaire est une préoccupation croissante, car les niveaux déclarés[1] de gaspillage alimentaire ont rebondi et sont maintenant de nouveau en ligne avec les niveaux pré-pandémiques.Three in ten people (30 %) admit to have higher food waste levels than before the pandemic (20 %), as they adopt less food management behaviors such as batch cooking and the use of remains.
Thanks to the colorful and nostalgic shapes evoking Tetris parts, customers will be able to stack the Samsung Stackers set in their refrigerator as in the game.Whether up, down, left or right, the food storage set is perfect for optimizing space.
Like the stackers game, the Samsung refrigerators ranges offer infinite personalization, inside and out.Whether it is "customizable interior space" or "wine shelf" functions that minimize the lost space in the refrigerator, or even spacemax ™ technology which offers more practical arrangements for fresh products.These innovative characteristics are found in the Bespoke refrigerators of Samsung, a collection of completely unique refrigerators-freezer combinations which are distinguished by their capacity, their convenience and their personalization.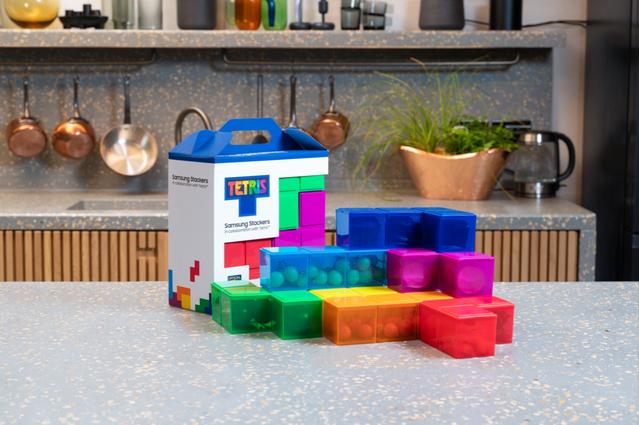 Maxime Parein, Head of Marketing of household appliances at Samsung Benelux said: "At Samsung, our mission is to develop lifestyle products and solutions that help consumers better manage and lead their lives, in particular by reducing their food waste.This is why we had team with The Tetris Company to launch the Samsung Stackers, a completely unprecedented storage solution that allows food to be stored in a fun way.Not only are the Samsung Stackers beautiful and integrate perfectly into our refrigerators, but they also offer our customers an even more effective way to optimize the available storage space, while supporting the fight of the European Food Banks FederationCtre thefood waste.»»
Maya Rogers, president and CEO of Tetris, said: "We are delighted to associate with Samsung to create Samsung Stackers and offer fun solutions for the organization of refrigerators with a dose of nostalgia for Tetris.It's great to see the Samsung Stackers give life to our very popular puzzle game and we can't wait to see how customers will transform their ordinary refrigerator and freezer into a real Tetris game.In addition, as all the profits are donated to the European Food Banks Federation, it is an incredible opportunity to contribute to the fight against food waste in more than one way.»»
The new Samsung Stackers will be available in the following European countries: Romania, Serbia, Croatia, Slovenia, Spain, Czech Republic, Slovakia, Italy, Hungary, Greece, France and United Kingdom.
Les clients qui souhaitent en savoir plus sur la nouvelle gamme ludique et efficace de Samsung Stackers peuvent visiter le site samsung.com/tetris.People wishing to buy a game can do so at a price of € 25 and all the profits being donated to the European Food Banks Federation, a non -profit organization representing a network of 335 food banks across Europe, which is committed toprevent food waste and reduce food insecurity.
The European Federation of Food Banks has found a significant increase in demand for food needs in recent years, and expects it to grow from year to year.In 2020 alone, the network of charitable organizations receiving food from the European Federation of Food Federation helped a total of 12.8 million people in need, an increase of 34.7 % compared toat the 2019 pre-countryic levels.Consequently, European members of the organization have recovered, collected and redistributed 860,000 tonnes of food, most of which were otherwise wasted.
About the Tetris®LA brand Tetris® brand is one of the most important and distinctive brands and video game franchises in the world.After more than 35 years, the brand continues to be appreciated worldwide by people of all ages and all cultures.Billions of Tetris parties are played online each year, and more than 500 million Tetris for mobile games have been downloaded to date.The global network of Tetris brand license holders includes the main video game publishers, including Nintendo and Sega, as well as many partners in the electronics, toys, clothing, current consumer goods sectors, entertainment, etc..Tetris Holding, LLC, is the owner of Tetris rights worldwide, and The Tetris Company, Inc.This is the exclusive licensee.For the latest information on the Tetris brand and Tetris products, please consult the site www.tetris.com.
About the European Federation of Food Banks Corrected in 1986 and based in Brussels, the European Federation of Food Banks (FEBA) is a non -profit European organization and works in collaboration with a network of full and associate members in 29 European countries.The FEBA brings together a network of more than 300 food banks that are committed to preventing food waste and reducing food insecurity.Daily activity consists in recovering, collecting and distributing food to charitable associations helping the most disadvantaged.In 2020, the full members of the FEBA recovered, sorted, stored and redistributed 860,000 tonnes of food to help 12.8 million disadvantaged people thanks to collaboration with 48,126 charitable organizations and thanks to the professionalism of 37,016employees (85 % volunteers).For more information on the European Federation of Food Banks, please consult the site https: // www.Eurofoodbank.Org/.
1WRAP's Food Waste Trend Survey 2021